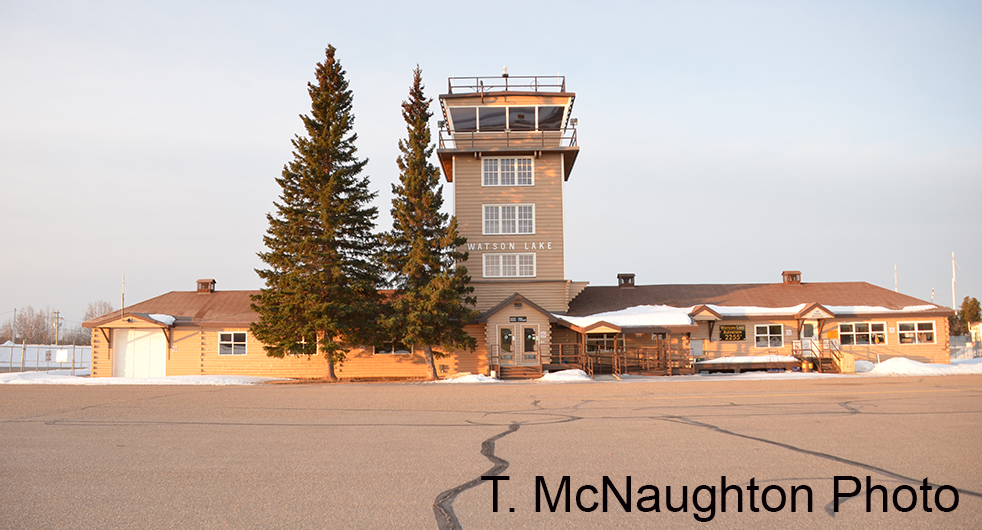 Watson Lake Air Terminal Building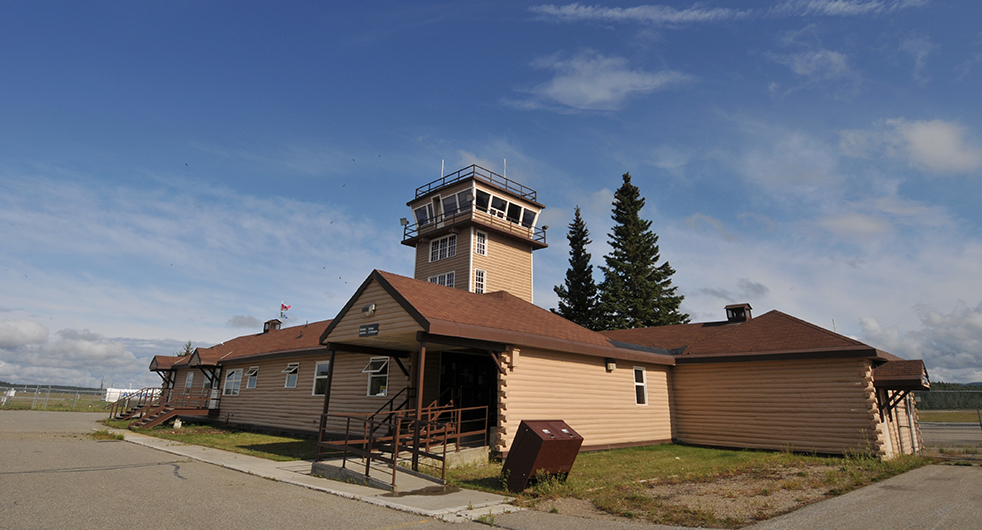 Watson Lake Air Terminal Building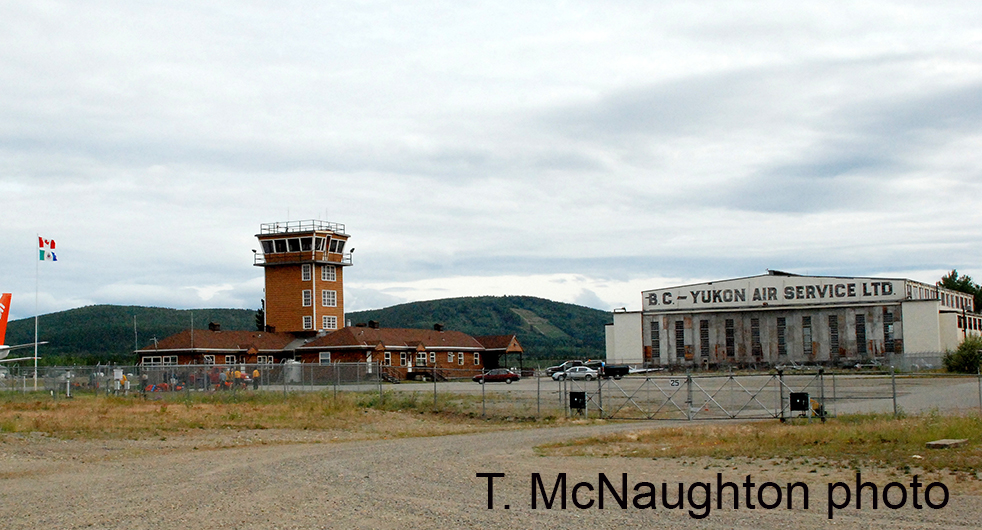 Watson Lake Air Terminal Building
The Northwest Staging Route was conceived as early as 1934 as a way to bring military supplies and personnel to the northwest of the continent. Construction of the airfields began in with the outbreak of WWII 1939. The airfields linked Edmonton with Fairbanks, Alaska. A series of refueling and service stops were built at Grand Prairie, Fort St. John, Fort Nelson, Watson Lake, and Whitehorse. They included navigation aids every 200 miles along the route. When Nazi Germany invaded the USSR in June 1941, the US came to the aid of the Russians with the offer of loaned and leased military aircraft. There were other routes for transporting these planes but the shortest, and most used. was the Northwest Staging Route. Over 1800 aircraft made the trip to the USSR. The airfields were rapidly upgraded to accommodate the large bombers that flew the Polar Route to the USSR. The Alaska Highway was built to allow the United States to bring war material to Alaska to face a potential Japanese invasion, however its route was influenced by the Northwest Staging Route. The highway could support the airfields and vis-versa.[42]
The Watson Lake Airport was once a complex of over 100 buildings with the Air Terminal building and the Airport Hangar the focus of the working area. Barracks, storage buildings, a mess hall, a recreation centre, a curling rink, and residences were used by the RCAF and later Department of Transport employees. Only the ATB and hangar remain from the war years.[43]
The Watson Lake airport was a re-fueling stop for short-range military aircraft Because of this, the runway was lengthened, and finished with a hard surface, the height of the ATB control tower was increased, and the first floor was expanded. Radio communication, meteorological facilities, runway lighting, and navigational aids were installed. After the war, the airfield continued to be used, serving miners, loggers, and prospectors in the area. Canadian Pacific Airlines ran scheduled flights from Watson Lake on a regular basis until the late 1990s. The Watson Lake Terminal is the oldest non-residential structure built for the Northwest Staging Route still used for its original function. The Watson Lake Hangar is privately owned and used for airplane storage and maintenance. It was constructed in 1943, one year later than the ATB.
The Watson Lake Air Terminal Building is a landmark for the town of Watson Lake, as it is one of the earliest buildings in the area. The town of Watson Lake owes its existence to the construction of the airport and the Alaska Highway. The ATB is the oldest public building in the area and provides an attraction for the tourists travelling on the Alaska Highway and a sense of pride in the community.
Citations:
42: Bob Hesketh, ed., Three Northern Wartime Projects, Canadian Circumpolar Institute, University of Alberta, Edmonton & District Historical Society. Occasional Paper Series No.38.
43: Yukon Historic Sites Inventory, Watson Lake Air Terminal Building.