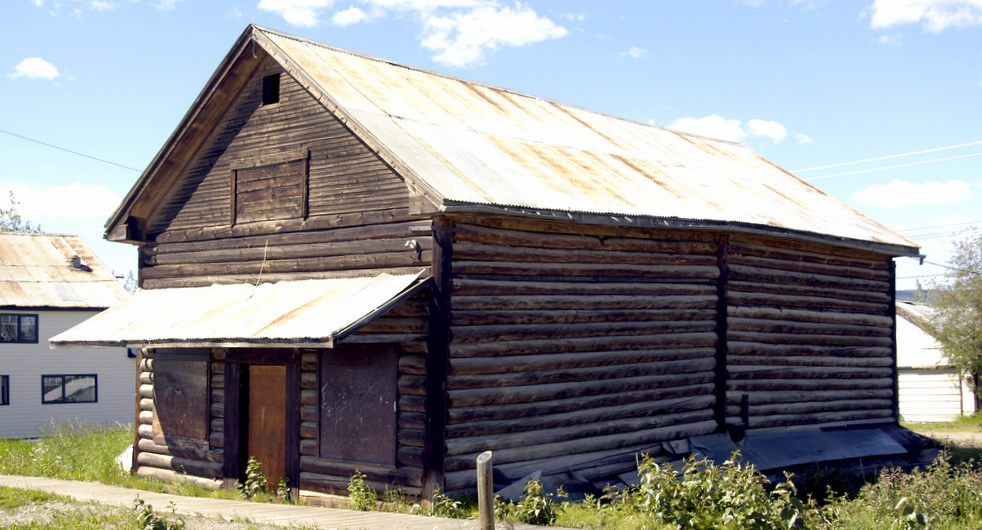 Mayo Legion Hall
The Hall was built by Alex Nicol in 1936. Known as one of the "founding fathers" of the community, Nicol came over the Chilkoot Pass in 1898 at the age of 18 and headed for the Klondike. He was among the early stampeders into Duncan Creek (30km northeast of Mayo) in 1901 and, while working there, heard rumours that a new townsite was to be established at Mayo Landing. Nicol traveled to Mayo Landing and was the first to build a cabin there, even before the townsite surveyors arrived. He was also one of the early stakers at the Keno Hill discovery and he maintained those claims throughout his lifetime. He stayed in the Mayo region prospecting, staking, and freighting for various mining companies until his death in 1965.
Nicol built this warehouse, intending to rent it to the Bank of Montreal. This didn't occur and the building remained unfinished until after WWII when he finished the walls and roof, then rented it to the Yukon Territorial Government as a liquor storage building. The building is a good example of a well crafted log building in the Red River Frame style. Its vernacular architecture demonstrates the size and type of buildings that were common throughout the Yukon communities from the turn of the century until the 1950s.
The Djukenstein family purchased the property in 1963 and ran the "15-2" ladies dress shop for approximately three years. In 1972 the Royal Canadian Legion, Keno Hill YT, Branch #3 purchased the building to use for their meetings and also as a rental property. The building was rented to the adult education program called BLADE. In 1975, it was leased to the Yukon Government as a library and kindergarten classroom. The building was also used as a meeting hall when YANSI (Yukon Association of Non-Status Indians) met there during the early 1970s to initiate land claims and where the First Nation of the Nacho Nyak Dun was first involved in the land claim process. In essence, the Legionnaires provided a community centre before such a thing was envisioned by the Town Council.
The building returned to its commercial roots when it became first a hardware store and later a games centre in the early 1980s.[33]
The building is currently unoccupied.
Citation:
33: Historic Sites Nomination Form, researched by Dr. Anne Leckie.