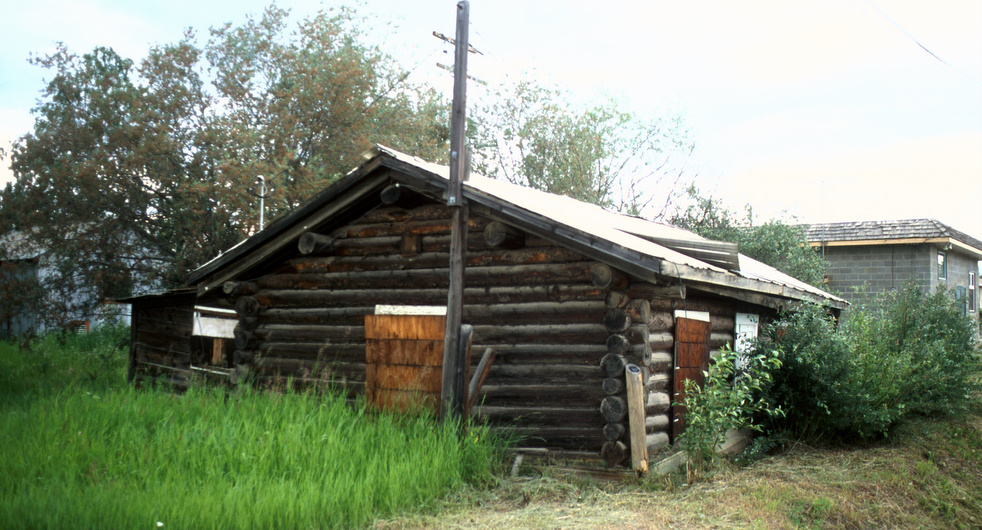 Mayo Mining Recorder's Office
In Mayo, before the inception of the Mining Recorders Office, miners were forced to either work the claim without staking it, or had to make their way to Dawson in order to record it there.
The first Mining Recorder Office was established in Clear Creek in 1901, and the area became known as the Clear Creek Mining District. The next year, with increased prospecting and mining activity in the region, offices were opened at Gordon Landing and at Minto Bridge. It was decided that a town must be established in the area to accommodate this newfound population. In 1903, Raoul Rinfret, Joseph Edward Beliveau and John Dease Bell surveyed the Mayo site. The surveyed area was found to be a suitable town site due to its close proximity to Duncan Creek, but also because of the nature of that area of the Stewart River; the flattened banks were more accessible to riverboats.
The Minto Bridge office was moved to Mayo Landing in 1914, but was not named the Mayo Landing Mining Recorder's Office until 1918. Louis Bouvette made a startling silver discovery on Keno Hill in 1919, however, the office had shutdown and his recorded claim was taken by J.E. Ferrell, who owned a store in Mayo and doubled as Mining Recorder. The subsequent stampede to Keno Hill made it necessary to reinstate the Mining Recorder's Office, and in 1920, the district became known as the Mayo Mining District. Mayo was named Mayo Landing until the name was officially shortened to Mayo in 1958.
Sam Blackmore built this office in 1921. This was the first official Mining Recorder's office in Mayo and was used for this purpose until 1933, when the office moved to another building. Richard L. "Dick" Gillespie was the first Mining Recorder in the Mayo area. (Linda E.T. MacDonald and Lynette R. Bleiler, Gold and Galena: A History of the Mayo District. Mayo Historical Society. Mayo, Yukon. 1990: pp 56, 57, 379)
Mabel McIntyre, the daughter of Grant Huffman, was born in Mayo on December 7, 1912. Mabel and her brother Albert were sent away to school in Chicago, returning to Mayo in the mid 1920's where they lived with Grant on his homestead in Mayo Canyon. Albert stayed to earn enough money to return back to Chicago, and Mabel stayed for a short while, then went to work in Keno City. She worked for the Keno Hotel as a chambermaid and later moved to Mayo to work in Binet's hotel. Sam Blackmore willed the building to Mabel and she lived in the cabin from 1946 until 1981. Mabel retired in 1972 from her postmistress position at the Mayo post-office. She died in 1986. (Ibid. p 420)