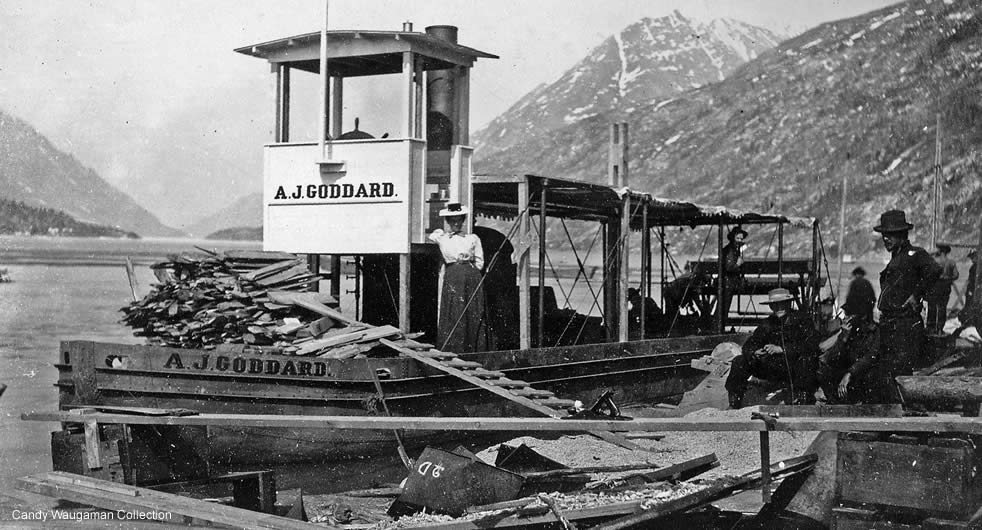 AJ Goddard Shipwreck
Her overall length was recorded as 15.24 m with a beam of 3.23 m, and a hull depth of 0.91m Gross tonnage was 86.7, and registered tonnage was 54.63. She was powered by two horizontal high pressure cylinders built by the Pacific Iron Works in Seattle, with a 5.5" bore and a 20" stroke. All components of the A.J. Goddard are present with the exception of the small pilothouse, stack and ship's wheel, and relatively little damage is visible. The vessel was built with a riveted steel hull displaying a spoon bow, five pairs of tubular steel hog posts, and diagonal hog chains utilized in an "X" pattern. Each set of hog posts is joined at the top with a cross-member running athwartships. The vessel has no "sides" or superstructure to port and starboard - it was open except for canvas curtains that provided passengers with modest protection from the elements. We believe there was a lightly-constructed wooden upper deck supported by the hog posts. The main deck has eight hatches arranged in four sets of two. One set of hatches is located forward of the boiler. Firewood is stored below deck in these hatches. The remaining three sets of hatches lie aft of the boiler and do not contain cargo or firewood except for a single empty crate. There appears to be another set of large hatches immediately forward of the transom, but the collapse of the splash guard for the paddle wheel has obscured this area with debris. None of the eight hatches had covers, suggesting they were not secured.Within the hull we observed longitudinal cross-members (e.g. girders) below the main deck and outboard of the hatches on both sides of the vessel. It was not possible to determine if the hull was constructed with transverse, water-tight bulkheads, but given the number of hatches observed on the A.J. Goddard, this design is likely.
The boiler, engines, pitmans, eccentrics and paddlewheel are intact and complete. An engineer's station with control lever is located aft of a small, horizontal water tube boiler. The vessel has a small, simple paddle wheel and three steel rudders and the tillers enter the hull below the level of the main deck. We note the steam intake and exhaust pipes connecting the cylinders, run athwartships at the top of the hog posts. This is a unique configuration not seen on larger vessels on which these pipes are located below the main deck. Neither feed nor bilge pumps are seen on deck, although there was a hose on the starboard side of the boiler, and running overside.