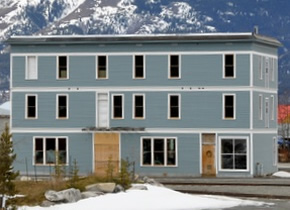 CARIBOU HOTEL
Yukon Archives Whitehorse Star: --1970-06-10 YTG Heritage Branch --Documentation of Historic Buildings in Carcross, file 105D/2/42 Interview Bob Olsen, owner of Caribou Hotel, Barb Hogan 2002.
Construction Period: From 1906 to 1939 Designation Level: Territorial
The Caribou Hotel was designated for its architectural, historical and social history values.
The Caribou Hotel is one of the oldest buildings in the Southern Lakes Region and is one of the last two historic three-storey frame commercial buildings in Yukon dating from the early 20th century. This landmark structure stands in its original location and is one of the first properties recognized when entering Carcross. Its size, massing and historic character provide an anchor to Dawson Charlie Street, one of the last Yukon streets composed entirely of historic buildings relatively unchanged since 1910. The Caribou Hotel has housed one of Yukon's longest continuously operating food and lodging businesses.
The size of the structure and its simple design provide an excellent representation of larger hotels of its period in Yukon. Its construction materials and building techniques such as double-loaded hall corridors, interior trims and doors and exterior architectural features such as the drop siding, trims and door and window configuration are typical design elements from this period of Yukon history.
The history of the Caribou Hotel reflects the economic and social history of Carcross and the Southern Lakes Region. Soon after the Klondike Gold Rush and a minor regional mining boom, many buildings were re-located from the declining communities of Conrad and Bennett to Carcross. The original building at this location was moved from Bennett and re-named the Anderson Hotel. In 1903, this hotel was sold to Dawson Charlie, one of the discoverers of Klondike gold and a member of the Carcross/Tagish First Nation. Charlie had the hotel extensively remodelled and re-named it the Caribou Hotel. Following Dawson Charlie's death in 1908, Edwin and Bessie Gideon rented and operated the hotel from his heir, Annie (Charlie) Auston. The hotel burned to the ground on Christmas Eve, 1909, along with an adjacent store and the nearby White Pass & Yukon Route (WP&YR) railway depot. A new hotel was constructed at the same location in 1910 and the business continued. The WP&YR railway depot was also rebuilt. The hotel was an important community meeting place and a venue for special occasions and public celebrations such as New Years Eve parties.
The sternwheeler, S.S. Tutshi, was constructed in 1917 to service growing tourism in the Southern Lakes Region. The Caribou Hotel benefited from its central location and proximity to the railway depot and S.S. Tutshi docking facilities. Over time the hotel has provided accommodation and services for tourists, big game hunters, visiting dignitaries, and long term lodgings for the Royal Canadian Mounted Police, construction workers, and local residents. Johnnie Johns, a member of the Carcross/Tagish First Nation and world renowned and respected big game outfitter, had a long working relationship with the hotel. Many of his clients stayed here.
The Caribou Hotel also figured in the construction of the Alaska Highway when the United States Army and private road construction crews used the hotel for housing and a mess hall. With as many as twenty-five trains per day rolling through town, Carcross was a major operational centre for workers, equipment and materials.
The Caribou Hotel remains as a window onto the social, economic and cultural history of the community of Carcross and the Southern Lakes Region of Yukon. Its neighbour, the WP&YR railway depot is designated a National Historic Railway Station of Canada.
Source: Historic Sites Unit, Cultural Services Branch, Yukon Government file 3630 32 09
Character Defining Elements
The Character Defining Elements include:
- Location and orientation of the building on its lot
- Exterior appearance and materials
- Exterior elements including wood windows, trims, cladding, decorative cornice and entablature and roof
- Window configuration and recessed entry on ground floor under second floor balcony
- Original interior finishes, including original doors, transom windows, stairwell and woodwork
- Double-loaded hall corridors on upper two floors.
Cultural Period
From reseach for the Carcross Walking Tour study: "The original Caribou Hotel has been identified as either the Yukon Hotel or the Vendome Hotel from Bennett, which was shipped on scows to Carcross. The Whitehorse Star (1901-05-15) says," W.A. Anderson, the well-known hotel man of Bennett, will shortly remove his hotel to that place [Caribou]". In the same issue, "Mr. W.A. Anderson, of the Vendome Hotel has purchased the Yukon Hotel, building and contents. It is his intention to float the whole on scows through the rapids." Several months later The Whitehorse Star (1901-11-29) ran the ad, "For Sale (cheap) Finely furnished hotel with all the latest improvements, bath, etc. Apply to W.A.Anderson, Caribou, YT." The hotel was possibly named the Anderson Hotel for a time.
This building burned to the ground on Christmas Eve 1909, taking with it the railway depot and a store situated beside it and owned by George Fickhard. The present Caribou Hotel was built in 1910, making it one of the oldest operating hotels in the Yukon.
For many years, 1918-1972, Polly the Parrot lived here and entertained the guests with her renditions of "I Love You Truly" and "Springtime in the Rockies".
From Bruce Barrett, The Caribou Hotel: An Historical Assessment and Overview, January 1986.
The Caribou Hotel probably started life as the Yukon Hotel in Bennett and was transported across Lake Bennett to Carcross on a scow by the owner, W. A. Anderson. In 1903 it was purchased by Dawson Charlie, one of the discoverers of gold in the Klondike. The business prospered under several different owners until it burned to the ground in December 1909. The owner at that time, E. W. Gideon, built a new hotel on the spot in 1910 using material from a two-story building torn down in Conrad. The Caribou Hotel has undergone little change structurally or cosmetically since that time and the exterior remains virtually as constructed. During WWII, the hotel was taken over by the U.S. Army who used it for housing. The Caribou has been the longest operating hotel in the Yukon and is one of the oldest Yukon businesses of any kind still in operation.
May 19, 1901, Anderson applies to Hugh McKinnon, on VENDOME HOTEL (Bennett) stationery, for a hotel licence at "Carriboo Crossing." Opened as the ANDERSON HOTEL.
May 1903, managed by Theodore M. Watson; still called the ANDERSON HOTEL in the Star (May 23). Watson went on to join his father Charles at the Windy Arm Hotel, Conrad, in 1906. July 1904, managed by Mrs. E. Ready. October 1906, leased ? by R. J. Brittain. Following Dawson Charlie's death on January 26, 1908, Edwin W. and Bessie Geraldine Gideon rented it from his estate (starting September 1, 1908). Burned on December 24, 1909; Colonel Conrad's house, just around the corner on the Lake Bennett waterfront, was used as temporary hotel until new one built.
Rebuilt by the Gideons in 1910, with financing from Jack Stewart. Gideons owned the hotel until Mr. Gideon died in 1925. Mrs. Gideon continued running the hotel until her death, in the hotel, on October 27, 1933. Bessie's sister, Louise V. Dawson, had been helping her manage the hotel, and was executrix of her estate. The hotel was on a lot which was rented from Annie Austin, for $75 per year. The ghost of Mrs. Bessie Gideon is said to roam the third floor. Rented by Jack McMurphy ca.1939-1940. Operated by Dorothy Hopcott from 1959. N.D. owned by May Florence Ross for 9 years; she died in Chilliwack, BC, February 13, 1991, at 92 years old.
Polly the Parrot moved into the hotel in 1918, when Captain James Alexander, owner of Engineer Mine (BC Minister of Mines, 1913) asked the Gideons to take care of him (Polly was a male) while he and his wife went Outside; they were killed in the wreck of the Princess Sophia.
Description of Boundaries
Lot 2 Block A Plan 67560
Historical Sources Location
Yukon Archives
Whitehorse Star:
--1970-06-10
YTG Heritage Branch
--Documentation of Historic Buildings in Carcross, file 105D/2/42
Interview
Bob Olsen, owner of Caribou Hotel, Barb Hogan 2002.
Renovation Information
Plumbing installed in 1942-44 by military
Kitchen addition constructed approximately 1992.
Washroom off bar constructed recently.
Maple floor installed just after 1944, dated by newspaper found under floor.
Wood furnace in basement removed.
2 casement windows on second floor, west wall installed in 1942-44 by military (bathrooms)
Bar renovated and moved post 1980. Interior partition removed in bar, it used separate the lounge and pub, only columns remain in place.
Floor in the bar replaced in 1999.
Permit issued in march 1985 to repair the floor in the existing hotel on this site. Permit finalized in March 1985.
Permit issued in August 1987 to renovate restaurant/lounge in the existing hotel. Permit finalized in March 1989.
Permit issued in June 1988 to renovated to add 4 rooms on the 3rd floor. Permit finalized in June 1988.
Permit issued in Feb. 2001 to renovated fire escape on hotel. Permit not finalized to this date. (2002)
Permit issued in May 2002 to construct a temporary water tank shelter on site. Permit not finalized (2002)
Fire escapes dismanteled, rear addition removed, new foundation 2007 - 2008
Construction Style
Three storey wood frame building with shed roof clad with corrugated metal. Walls have shiplap siding, and corner boards with entablature over plain band at the second and third floors. Interior cladding is 6" material on the diagonal. Windows are single hung wood frame with plain trim. Open rail balcony on second floor on east wall, providing overhang over entrance on first floor. Wood fire escapes on south and north walls. South wall has open porch with shed roof on third floor of fire escape. False front on south, east and north sides of building with decorative entablature or vertical tongue and groove below a sloped cornice. Addition with a medium pitched gable roof clad with rolled roofing off the west wall, windows are boarded over. There is a connecting addition off the west wall of addition to a shed off the north wall of addition. Storage shed is clad with corrugated metal had has a medium pitched gable roof clad with corrugated metal. Additions and storage shed removed in 2007. The foundation has timbers on the perimeter with 6 cross beams running east/west. The floor joists on the second and third floor were cut away in 1942-44 by the military when plumbing was installed in the building. Plumbing is cast iron and there are no plumbing vents. Original floor heating grates are intact and in place, there is a 5' crawlspace in basement. Basement filled in 2007.
Documentation Location
Historic Sites Unit, Cultural Services Branch, Yukon Government file 3630 50 12