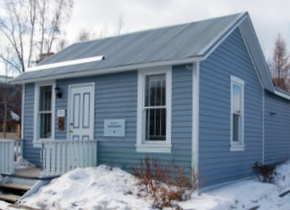 SMITH HOUSE
The character defining elements include: - T shaped plan - The location and siting of the building on the corner lot of Wood Street and Third Avenue - Exterior architectural elements reflective of the vernacular style such as the fenestration, roofs, cladding, historic wood sashes and trim - Interior details such as the patterned wood ceiling and quarter sawn wood strip flooring
Construction Period: From 1896 to 1905 Designation Level: Municipal
The Smith House was designated for its historical and architectural values.
This small, unpretentious house was built with a simple rectangular plan that, combined with an economic use of materials, presented a modest but elegant appearance to the street. The symmetry of the primary façade on Third Avenue is conveyed by tall wood frame windows on each side of the central doorway. Painted wood siding and contrasting corner-boards, fascia, casings and sashes along with the metal clad gable roof contribute to the finished exterior. Two additions constructed by 1914 created a rambling appearance typical of smaller vernacular homes from this time period and changed the floor plan to a T-shape. These additions, with mixed types and sizes of wood siding, reflect an approach typical of the time and place.
Interior elements illustrate the building's earlier charm with an ornate wooden sun-ray design ceiling in the historic parlour area and fir strip flooring throughout the house.
The Smith House has been on this site since early 1905 and was one of the first houses located on the edge of the downtown commercial core. The house is named after John (Jack) Smith, who purchased the property in 1904 from the British Yukon Land Company. This subsidiary of White Pass & Yukon Route surveyed the original street grid and managed the land in the city until after World War II. Smith lived here for only a short time as did many of the subsequent owners, most staying less than two years. From 1941 to 1964, the building was a rental property. The Smith House was last used as a residence in 1970 and then became a store and a warehouse. The Smith House typifies the neighbourhood's evolution from residential to commercial use.
The Smith House is now part of LePage Park, a landscaped public area containing three rehabilitated, municipally designated heritage buildings owned by the City of Whitehorse and administered by a local heritage organization, the Yukon Museums and Historical Association. In 1984 the roof, basement, and windows of the Smith House were upgraded and washroom facilities installed in a rehabilitation project undertaken by the Yukon Historical and Museums Association, with support from Heritage Canada Foundation's Main Street program. The property provides an excellent example of the successful partnership of local government and a non-profit society preserving the city's heritage.
Source: City of Whitehorse Heritage Advisory Committee minutes May 6, 1999. Historic Sites Unit, Cultural Services Branch, Yukon Government file 3450 52 01 01.
Character Defining Elements
The character defining elements include:
- T shaped plan
- The location and siting of the building on the corner lot of Wood Street and Third Avenue
- Exterior architectural elements reflective of the vernacular style such as the fenestration, roofs, cladding, historic wood sashes and trim
- Interior details such as the patterned wood ceiling and quarter sawn wood strip flooring
Description of Boundaries
Lot 14, Block 27, Plan 77127 LTO YT
Historical Sources Location
YHMA File:
--acc. #Y039, Historic Buildings of Whitehorse, Yukon Historical & Museum's Association, 1980, text & photographs
--Smith House, by Len Tarka--report on physical characteristics, condition, and renovation recommendations
--The Smith House: Owners and Occupants 1904-1987, by Ben Moise, 1987--report
--research material for above report
--20 4"X4" photos, 1983, no credit
--20 frames of colour negatives and prints, 1984, no credit
--4 frames of colour negatives and prints, June 19985, no credit
--crawl space plan of Smith house, Nov. 1984
--15 frames of b&w negatives, 1979, credit D. Peacock
Yukon News
--1988-03-23 "Pat 'Shaky' Stevens puts the finishing touches on a bench..." with photo of Stevens
Renovation Information
Extensive interior/exterior renovation in 1983/84: new pressure treated wood foundation/basement, removal of shed roof structure attached to west side, repair of exterior siding, windows, trims.
There has been a wooden porch added to the east side of the building since 2006
Construction Style
Wood frame structure with gable roofs constructed in several over a period of time; galv. steel roof decking; shiplap siding; new pressure treated wood basement/foundation.
Cultural History
The Smith house was named after Jack Smith, the original purchaser of the lot. It is presumed that he built the house but there is photographic evidence suggesting the house may have been moved from White Pass land outside the townsite. In 1905, the year of its appearance on this lot, the house consisted of two sections which were joined at a later date. Smith stayed only two years in the Yukon.
Billy Shaw purchased the house in 1906. Shaw worked for BYN Co. as a port steward, a position he held for roughly twenty years. In 1907 Shaw divided the half lot in two, selling the house and 1/4 lot to William L. Lawton and his family. Lawton worked as a stableman for White Pass, eventually becoming stable foreman.
In 1909, the house was sold to A.P. Hawes, a veterinarian for White Pass and inspector for the Department of Agriculture. In 1923, White Pass stopped using horses on the stage route to Dawson: Hawes left the Yukon shortly thereafter. John E. French, a carpenter and undertaker, owned the house until 1941. The house changed hands numerous times after 1941 until it was purchased and refurbished by the City of Whitehorse in 1984.
Documentation Location
Smith House file 3630 50 11 Historic Sites Unit, Cultural Services Branch, Yukon Government