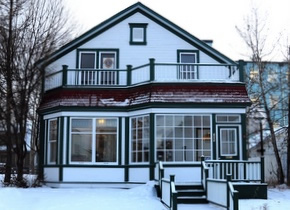 CAPTAIN MARTIN HOUSE
The character-defining elements include: - one and a half storey profile with architectural elements such as the gable roof, clapboard siding, cornerboards and trims - glazed porch topped by railed balcony, wood shingles on bell-cast skirt roof - bay window with leaded glass transom windows - original window and door openings - oak staircase and trim - location on street in context with other houses of same period
Construction Period: From 1906 to 1939 Designation Level: Municipal
The Captain Martin House is significant for its historical and architectural values.
Although modest by southern standards, the Captain Martin House was one of the grander homes in Whitehorse and is one of a few remaining in Whitehorse from the early part of the twentieth century. The house has notable features such as the main facade with its single storey bay window and leaded transom over the centre unit and the glazed porch that projects off the bay window. These features are topped with an open railed balcony and a bell cast skirt roof of sawn wood shingles. The interior features a finely detailed staircase with oak newel and rails as well as oak trim throughout. The exterior clapboard siding with painted corner boards, gable roof and wood frame windows are architectural elements that add to the building's distinctive appearance.
The house was owner-built as a single storey dwelling at 208 Wood Street. Captain Patrick Martin and his family lived here in 1908 until the late 1930s. He added the second storey in 1917.
A Master Mariner from Newfoundland, Patrick Martin was lured north during the Klondike gold rush seeking new opportunities. Martin left the life of a sailor and became a pioneer merchant in the new settlement of Whitehorse, opening the Artctic Trading Company in 1900 and a second store in the short-lived mining centre of Conrad. Martin typified many of the people who came to the Yukon seeking their fortune then settling down to become solid members of the fledgling society. Martin's house reflects his status in the community as a prominent merchant and as a member of the Territorial Council representing Whitehorse from 1912-1915, as well as a colourful personality. Paddy Martin died in 1940.
By 1981, the entire block was purchased for redevelopment and the house was moved and stored in the municipal yard. In 1987, the building was donated to the Lions Club. It was moved back to Wood Street, a block west from its original location. The building was placed on a new foundation, the rear addition reconstructed, the roof re-shingled, doors and windows were repaired or reconstructed where necessary and new storm windows were installed. Wiring and plumbing were brought up to modern code.
With its stately mass and distinctive features, this house anchors the small collection of early 20th century residences surrounding LePage Park and helps evoke the residential nature of this neighbourhood as it was until the late 1940s.
Sources:
Dobrowolsky, Helene. "Captain Patrick Martin: Master Mariner, Travelling Exhibit Planning Report". Prepared for MacBride Museum Society, 2002.
Historic Sites Unit, Cultural Services Branch, Yukon Government file 3630 40 02
Character Defining Elements
The character-defining elements include:
- one and a half storey profile with architectural elements such as the gable roof, clapboard siding, cornerboards and trims
- glazed porch topped by railed balcony, wood shingles on bell-cast skirt roof
- bay window with leaded glass transom windows
- original window and door openings
- oak staircase and trim
- location on street in context with other houses of same period
Historical Sources Location
YHMA File:
--acc. #Y039, Historic Buildings of Whitehorse, Yukon Historical
Renovation Information
Second storey added in 1917. New foundation and basement added after relocation to new site in 1987.
Construction Style
Two-storey wood frame building with gable roof; glassed porch and second storey balcony; bevelled wood siding; asphalt roof shingles.
Cultural History
Patrick Martin was born in Grates Cove, Newfoundland on September 1, 1864. He began fishing and sealing as a teenager and, over the next 10 years, he sealed off Newfoundland, whaled near Greenland, and served on several sailing vessels freighting fish to the Mediterranean, South America and the West Indies. Martin moved west in 1891 and commanded schooners off the coasts of British Columbia, Russia, Japan as part of the lucrative fur seal hunt. He even sailed a schooner around Cape Horn in record time. Martin received his Master Mariner papers in 1893 and married Winnifred Ann Bradshaw two years later. The Klondike gold rush lured Martin north seeking new opportunities.[47]
He came to the Yukon as skipper of the Canadian that he sailed from Victoria along the coast and up the Yukon River. Shortly after that trip, he quit the steamboat business and opened a general merchandise and grocery store on First Avenue called the Arctic Trading Company. He also had a mink and fox farm and then became Government fish inspector.
This house was originally located at 208 Wood Street circa 1915, although it may date from as early as 1900. Newspapers and early photographs suggest that it was originally a one-storey house, to which a second floor was added in 1917. The Martin family occupied the house until the mid-1930s when they moved to the Chantler House on Hawkins Street. The house was relocated to its current location and rehabilitated in 1987. It has been used to house various non-profit NGOs.
Citations:
47: Helene Dobrowolsky, Captain Patrick Martin: Master Mariner, Travelling Exhibit Planning Report. Prepared for MacBride Museum Society, 2002.
Documentation Location
Historic Sites Unit, Cultural Services Branch, Yukon Government file 3630 50 19