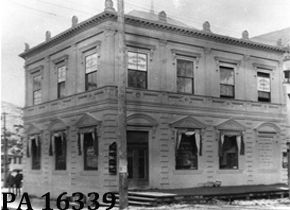 BANK OF COMMERCE
National Historic Sites Directorate, Documentation Centre, 5th Floor, Room 89, 25 Eddy Street, Gatineau, Quebec.
Construction Period: From 1896 to 1905 Designation Level: Federal
The Canadian Bank of Commerce was designated a national historic site of Canada in 1988 because:
- important services were performed by the bank, from the Gold Rush of 1898 until 1989;
- this Renaissance Revival building is one of Canada's finest surviving structures clad in decorative pressed metal.
The heritage value of Dawson City's Canadian Bank of Commerce lies in its longstanding role in Yukon history, in the excellence and sophistication of its design and composition, particularly in a northern environment, and in its prominent location in the historic Gold Rush town of Dawson. Originally housed in a tent, the Canadian Bank of Commerce relocated several times before finally settling in the current building designed and built by W.P. Skillings and Robert Moncrief in 1901. Its grand architectural style reflects the important services that were performed by the bank, such as the buying and melting of gold into bricks and the brokering of gold on world markets. This structure, with its sophisticated form, was a prominent and visible symbol of the banks significance within the community. It operated as a bank until 1989.
Source: Historic Sites and Monuments Board of Canada, Minutes, November, 1991; Plaque text, 1991.
Additional Information
See file folder for copy of original floor plans .
Character Defining Elements
Key elements contributing to the heritage value of this site include:
- its location in Dawson's business section, relatively isolated from the predominantly wooden structures;
- its rugged, northern setting within the Dawson Historical Complex National Historic Site of Canada, as well as its spatial relationships with other buildings within the complex;
- its cubic two-storey massing under a very low hip roof;
- its Renaissance Revival design with a four-bay symmetrically organized facade, side entry, classically-inspired ornamentation including pilasters, dentilled cornice topped by finials, and alternating pedimented and arched window surrounds on the ground floor with bracketed mouldings above;
- its pressed metal facing worked to resemble stone, particularly in its imitation rustication, fluted pilasters, and decorated entablature topped with anthemion;
- its light-weight platform frame wood construction;
- its original interior plan and remaining original interior furnishings and finishes;
- viewscapes toward the building from Queen and Front streets and from the river.
Historical Sources Location
Dawson Municipal Records. Assessment and Tax Rolls
Dawson City Directories for 1903, 1905-6 and 1915-16
Historical Photographs:
University of Alaska, Bassoc Collection, 64-92-385
University of Alaska, Lulu Fairbanks Collection
Public Archives of Canada C 17027
Public Archives of Canada PA 16339
Public Archives of Canada C 17026
Vancouver City Archives, Canadian Bank of Commerce
Washington State University, Mart Howard Collection, Lantern Slide 127
Geological Survey of Canada, 83149
Banking in the Klondike, Parks Canada, Edward F. Bush #118.
Renovation Information
Permit was issued in October 1986 to construct a fence. No final date
Permit was issued in November 1986 to install a wood burning heater. No final date
Construction Style
Metal siding, decorated cornice with quoins on each corner on first floor pressed decorative capital pillars on second floor. Metal hip roof with small dormer on west wall, has metal hip roof and metal siding. Decorative pressed metal roof ornaments on east wall. Closed stairwell on west wall, addition removed on north wall, stone vault in north east corner of building. Post and beam foundation, metal sheeting removed from north wall, flush planking exposed underneath. Large fixed picture windows east wall, single door east wall, single hung windows rest of building. Decorative trim on windows, decorative pediment alternated with decorative curved pediment with braces on each side of window opening on first floor. On second floor, windows have decorative entablature with braces.
Cultural History
The Government of Canada owned this land, and the Canadian Bank of Commerce held a continuous lease from Her Majesty since 1901. The Canadian Bank of Commerce built the building in 1901; it was used continuously as the Bank of Commerce until 1989. The contemporary bank now resides on Second Avenue. The second floor apartment was originally for bank staff. The bank was purchased by the City of Dawson in 2012 and is currently undergoing conservation work.
Documentation Location
National Historic Sites Directorate, Documentation Centre, 5th Floor, Room 89, 25 Eddy Street, Gatineau, Quebec.