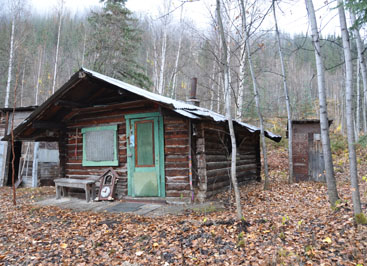 P. DENHARDT CABIN
File 3630-40-03, Historic Sites, Cultural Services Branch, Government of Yukon.
Construction Period: From 1896 to 1905 Designation Level: Municipal
The Denhardt Cabin, outbuildings and lots was designated as a municipal historic site for its architectural value and association with the early development of Dawson City.
The site is representative of the many residences that dotted the landscape during the Klondike Gold Rush, an international event which was pivotal in the development of Dawson City and the creation of the Yukon as a distinct territory of Canada. The Denhardt Cabin is one of six remaining properties of a similar age and style in Dawson City. Built prior to 1899, the Denhardt site is the only property from this time period in the North End Heritage Character Area that has remained unchanged with its undeveloped landscape, one room cabin and associated outbuildings in their original location.
The site's rustic frontier style, functional design and vernacular construction are typical of the residences that once filled the North End. Set within one of Dawson's oldest neighbourhoods (1897), the buildings were part of a crowded city block of small gable-fronted cabins that lined the alley between Second and Third Avenues. Today, the area around the buildings is cleared with the remainder of the site overgrown with trees, willows and shrubs providing a natural barrier from the surrounding streets and residences. The setting is unique in that it remains undeveloped and protected from modern intrusion.
The cabin exhibits good craftsmanship with horizontal round log construction with square-notched corners and a gable roof clad with corrugated sheet metal that overhangs the entranceway. The site's shed and outhouse illustrate the practice of re-using materials that was common in this remote town. The single storey frame shed has walls of multi-dimensional lumber, irregularly clad with a patchwork of flattened fuel cans, sheet metal and corrugated metal pieces. Its corrugated metal shed roof is overlaid with flattened fuel cans. The outhouse is a frame structure with a corrugated sheet metal shed roof, and walls clad with decorative pressed metal.
Sources:
Minutes from the City of Dawson Heritage Advisory Committee meeting September 6, 2011
Town of the City of Dawson Bylaw #12-12
Yukon Historic Sites Inventory file # 116/B/03/468
Character Defining Elements
Character defining elements include:
- Location and siting of buildings in a small clearing within an undeveloped landscape overgrown with native plant species
- Architectural elements of the buildings such as original window and door openings, historic wood sash and trims, roof profiles, outbuildings' flattened metal and pressed metal cladding, and re-purposed lumber
-The cabin's simple, rectangular plan, modest size, exposed log construction, gable roof with 2m overhang over the entrance.
Historical Sources Location
Dominion Land Titles
Territorial Land Titles
Dawson Municipal Records. Assessment and Tax Rolls
Dawson City Directories for 1903, 1905-6 and 1915-16
Historical Photographs:
University of Alaska, Basoc Collection 64-92-403
Provincial Archives of British Columbia, 41490
Renovation Information
No information on file
Construction Style
Squared logs, square notched with metal gable roof. Two purlins, ridgpole extending over west wall for roof overhang over entry way and platform. Logs chinked with cotton ticking and blankets. Windows boarded over.
Cultural History
Joseph Wachowski was the last owner of the cabin before the City of Dawson took it over for back taxes. Also known as "Waffles", Wachowski was an American who drove a vehicle with Arizona license plates. He spent the summers in Dawson and was known as a local character, always in the company of several dogs. When he arrived in May, he brought candy for children and bundles of clothing to give away to those in need. He stopped coming sometime in the early 1990s and the City assumed ownership of the property [24].
Citations:
24- Various interviews conducted by Paula Hassard, September 2012.
Documentation Location
File 3630-40-03, Historic Sites, Cultural Services Branch, Government of Yukon.